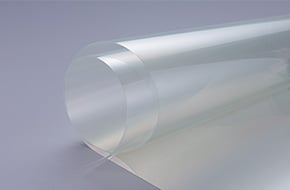 EC 280 is an extruded clear transparent film based on an ABS / TPU blends. This foil is very good in the screen printing system usable. Due to the large variety of printing systems testing are essential. A UV – protection by a surface – clear coat is necessary.
EC 3010 is a UV base-stabilized, deep-draw able, back-printable and cut-firm extruded foil of TPU-Blend which is clear and white version available.
EC 4060 is a transparent, deep-draw able extruded TPU/PMMA Blend foil. The foil is UV-firm; additional recoat wicht UV-lacquer is not required.
ECC 1015 is a transparent co-extruded TPU / TPU-ABS blend film which shows very good wear resistance and deformation characteristics during deep-drawing. The surface is high gloss and very scratch resistant and very cut resistant. The bottom layer is modified so that both screen printing and digital printing can be used for decoration.
ECC 1211 is a transparent coextruded polyamide film with a PA 11 top layer and PA 12 bottom layer. The surface is glossy, very scratch resistant and very firm equipped. The bottom layer is so modified that both, the srceen- and sublimations-procedure, can be used for decoration.
The protective film PF95 protects sensitive surfaces against dirt, scratches, tool marks, etc. during processing, storage, transportation, assembly. The protective film is an embossed polypropylene carrier which is conformable, heat resistant and thermoformable. The protective film is easy and residue to remove after processing.
ABS – Sidewall: colored, white, black
Impact – strength modified ABS for sidewalls and spacer-material.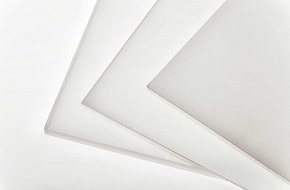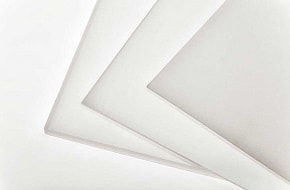 P-Tex® XC is a extruded HD-PE running base with scales which is available in clear and black version. Silkscreen on the backside possible. Also with HDPE (80 µm) protective foil available.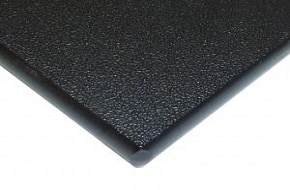 TP 455 is an inlay material on foamed HDPE basis, in black or white option available. This PE has high form stability and nevertheless a minimal density. Especially suited to reach a weight reduction. This material consist of 20% pure TP 455 ground stock.